Free - Freeware - Rasch measurement software ...
MINISTEP
Free Evaluation, Student, Trial and Demonstration (Demo) Version of WINSTEPS
---
Free by Download
MINISTEP
MINISTEP is a reduced version of WINSTEPS. It has complete WINSTEPS functionality, but is limited to 25 items and 75 persons (cases). You may copy, distribute and use it without charge or time-limit. Of course, we hope you will want to purchase the full version of WINSTEPS (which can analyze 30,000 items and 10,000,000 persons).
Get started with Winsteps Tutorial PDFs
Ministep: Standard Download

Ministep: Secure Download from
https://wins12.verio.com/a/MinstepInstall.exe


"Save as" "c:\windows\desktop\MinistepInstall.exe"

Click on "MinistepInstall.exe" on your desktop to install MINISTEP, the free student/evaluation/demo version of Winsteps
MINISTEP will start automatically.

Delete "MinistepInstall.exe"

Click on "Ministep" icon on desktop to run MINISTEP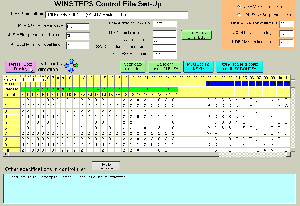 Click here for bigger picture.
Useful books are "Applying the Rasch model", "Best Test Design" and "Rating Scale Analysis" available from https://www.rasch.org/books.htm

Companion to Bond & Fox, 1st Edn., "Applying the Rasch Model". Step-by-step through their examples using Ministep.

Free DOS precursor to WINSTEPS, called BIGSTEPS. Contains most features. Runs from DOS prompt. Analyses up to 3000 items and 20000 persons (cases). Please copy, distribute and use.

Free Excel scatterplot point labeling add-in, called XY Chart Labeler 97.xla developed by Rob Bovey

Freeware NotePad++ text editor (better replacement for NotePad)
---
Go to Top of Page
Go to Winsteps & Facets home Page
The URL of this page is www.winsteps.com/ministep.htm
---
John "Mike" Linacre, author of Winsteps, and Jenny use and recommend eco-friendly, highly effective beauty and wellness products such as skincare
In August 2017, Mike visited the SiSU Wellness Station at a Priceline Pharmacy.
Here are his Health Check results:
How You Compare: Top 1% - You rank 8 out of 17,020 males aged 65 to 74.
Mike attributes this amazing result to diet, exercise,
and safe, highly effective nutritional supplements.